Contact Information
Want to receive fliers about our upcoming events?
For more information about the band or to schedule it for your event, contact Ken Foltz.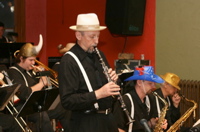 Phone: (859)803-3690
Email address:
bigband4u@gmail.com
Postal address:
1019 N. Fort Thomas Avenue
Fort Thomas, Kentucky 41075
Or fill out the following form and we will contact you.
PayPal
is the secure, free, easy way to pay—and
privacy is built in
.